Dragão

Always searching for knowledge. Occasionally hunting large bugs.
Márcio Albuquerque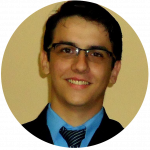 Computer Engineering bachelor, is fascinated by the art of photography. Has the ability of creating electronic and programming contraptions.
.
David Borges
Computer engineer and explorer of outer space in the free time.
Júnior Farrapo
Computer Engineering student, likes books, but prefers a good series. Likes microelectronics projects and seeks to help friends. Currently lost in search of a a good project. It's me.
.
Rafael Acurcio
Computer Engineering student, likes to read, to play, to DIY style and to learn new things. Always finding a little bit of time to figure out some new exoteric topic to read or discuss. And not less important loves pizza.
 .
Robson Couto
Electrical Engineer and maker by nature, lover of electronics and microcontrollers.